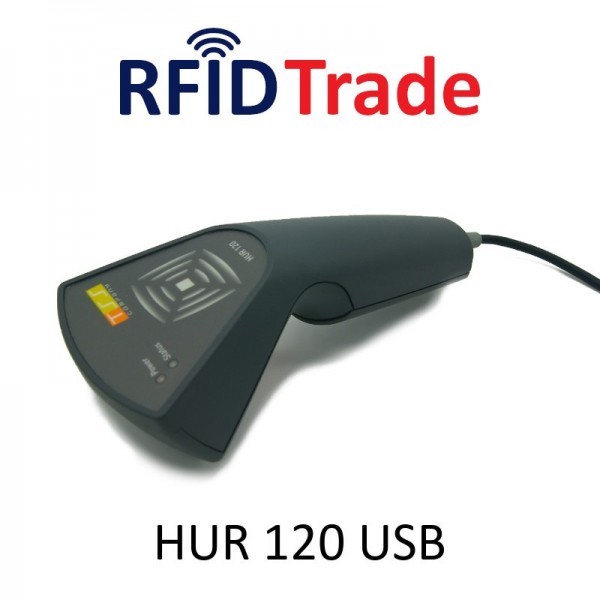 HUR 120 USB - RFID UHF Handheld Reader
The HUR 120 USB Reader is the simplest and most economical solution for short and medium range RFID applications. It connects via USB to Windows and Android devices.



The HUR 120 USB is a portable and ergonomic UHF RFID reader, offering the easiest way to integrate UHF RFID technology into any kind of applications. This RFID reader is powered and controlled directly by the USB interface, allowing the reading of the UHF EPC Class 1 Gen2 RFID Tags.
The RFID HUR 120 USB reader has an integrated antenna for short and medium range applications. Thanks to its ergonomic shape and its portability, this UHF Reader is the perfect choice for multiple applications. Currently, the HUR 120 USB is the UHF RFID Reader with the best price on the market and a two-year warranty.
Technical features
Air Interface Protocol: EPCglobal UHF Class 1 Gen 2
Frequency: 865 - 868Mhz
Number of channels: 4 channels
Supported Region: ETSI (Europe) - ETSI EN 302 208
RF output power: max. ERP 9dBm
Antenna: internal circular polarized antenna, 0 dBic
Data transmission speed: 40 kbps
Reading distance: up to 30 cm
Simultaneous reading: up to 50 tags/second
Interface
USB 2.0 connectivity
It appears as a USB serial port
USB cable terminated with type A plug
USB cable length: 1.6 m
I/O: two LEDs software controlled and a button software controlled
Physical characteristics
Power supply: 5VDC (powered via USB interface), max. 200mA
Operating temperature: from -20°C to +55°C
Dimensions: 180 mm L x 86 mm W x 45 mm H
Weight: 220 g
Data sheet
Remark

ISO 18000-6C / EPC Gen2 V2

Operating Temperature

From -20°C to +55°C

Power Supply

5VDC (Powered by USB interface)

Communication protocol

USB

Compatibility

Windows 7, Windows 8, Android

Reading distance

Up to 30 cm
10 other products in the same category: