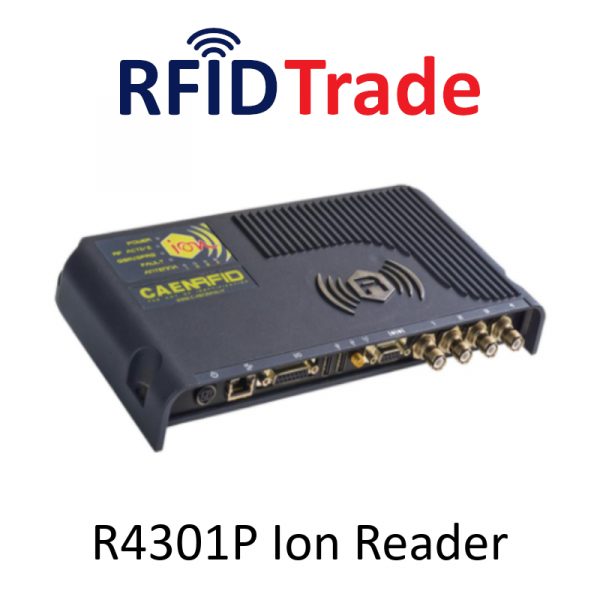 R4301P Ion - RAIN RFID Reader
Ion portal is the most suitable for complex scenarios, where data can be collected from multiple sources, such as RFID Tags and smart cards readers, barcode readers, GPS and other sensors.
The long-range Ion reader, compliant with the RAIN RFID UHF standard, is the result of the experience and inputs of direct users. It is the most suitable platform for RFID Tags, smart cards, barcode readers, GPS and other in-field sensors.
This reader is a long-range UHF reader with GPRS, exceptional RFID reading performance, computing power and communication capabilities.
The reader is optimized for portal installations and features full power for up to 16 antennas, Gen 2 Dense Reader Mode management and high speed read rates.
Based on an embedded hardware architecture (x86) and a Linux operating system, the Ion supports the development of custom software and solutions. Computing power and integrated connectivity eliminate the need for an external PC and its cables.
Physical characteristics
Dimensions: 27.5 x 15.5 x 3.9 cm / 10.8 x 6.1 x 1.5 in
Weight: 1.3 kg / 45.8 oz
Operating temperature: from -20° to 55°C 
Power supply: 9-36 VDC (30 W)
RFID features
Standard: ISO 18000-6C / EPC C1G2
Operating frequency: 865.60 ÷ 867.60 MHz (EU) / 902.00 ÷ 928.00 MHz (USA)
Antenna Connectors: 4 TNC Reverse Polarity
RF power: up to 32 dBm (~1.6 W)
Reading distance: over 20 m (depending on the antenna and the environment)
Data sheet
Remark

ISO 18000-6C / EPC Gen2 V2

Protection Class

IP42



10 other products in the same category: