On sale!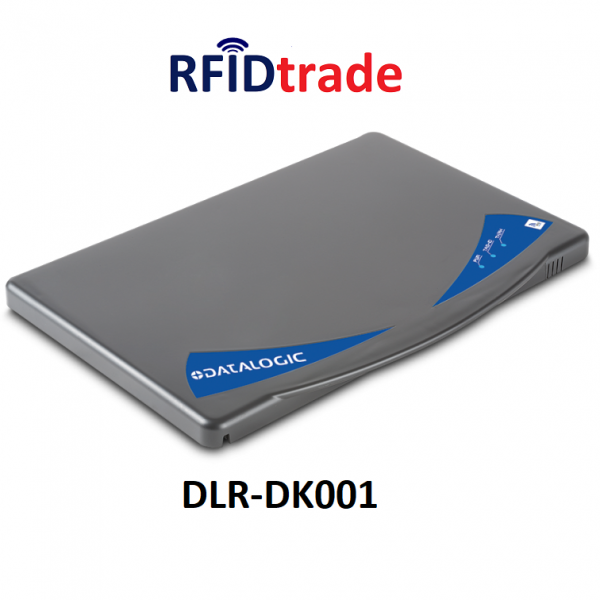 The DLR-DK001 is a UHF table RFID reader, with small dimensions (approximately an A4 page), suitable for access control, document control, sales points, programming stations.
Its low profile (1.5 cm / 0.6 in) and compact size make the DLR-DK001 reader the perfect choice for various applications such as Point of Sale, Document Tracking, Tag Programming Stations and Access Control. The module can also be used as a building block for smart shelves and smart displays.
Being multi-regional, it is compatible with both the European and the U.S. standards.
Physical characteristics
Player dimensions: 29.7 x 20.5 x 1.5 cm / 11.7 x 8.0 x 0.6 in
USB cable length: 1.5 m / 4.9 ft
Weight: 525 g / 18.5 oz
Operating temperature: from 0° to 50°C / from 32° to 122°F
Power supply: 5 VDC bus powered (USB); Max 400 mA
RFID features
Standard: ISO 18000-6C / EPC C1G2
Antenna: Integrated circular polarized antenna
Operating frequency: 865.60 ÷ 867.60 MHz / 902.00 ÷ 928.00 MHz
Number of channels: 4 channels (compliant to ETSI EN 302 208) / 50 hopping channels (compliant to FCC part 15.247)
RF power: Programmable in 15 levels (1 dB step) from 12 dBm ERP to 26 dBm ERP (from 16 mW ERP to 400 mW ERP)
Reading distance: up to 90 cm / 35.4 in
Datalogic's SDK libraries for RFID cover the following development environments: Android, Java W32, Net 2.0, Visual C (CRT 2005).
For more information on the reader, to download the data sheet, the user manual, configuration software, SDK, refer to the official Datalogic website.
Data sheet
Remark

ISO 18000-6C / EPC Gen2 V2

Power Supply

USB

Reading distance

Jusqu'à 90 cm



10 other products in the same category: