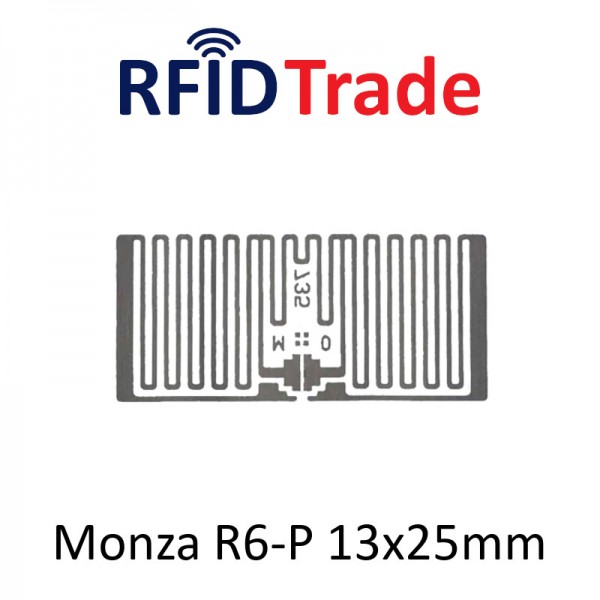 Linxens Mercury RAIN RFID UHF Wet inlay 13x25mm Impinj Monza R6-P
This RAIN RFID UHF Label is ideal for tagging cosmetic, luxury, pharmaceutical and electronic items. Excellent reading performance and data loss prevention.



Dimensions and materials
Label size: 13 x 25 mm ± 0.2 mm
Antenna size: 10 x 22 mm ± 0.2 mm
Total thickness over IC: 240 μm ±10%
Bending diameter: > 50 mm, tension less than 10N
Materials: PET / aluminum
Adhesive: acrylic
Technical specifications
RAIN RFID chip: Impinj Monza R6-P

Operating Frequency: 860 - 960 MHz (Global, Class1Gen2, v2.0.1 compliant)
ESD voltage immunity (HBM): ± 2 kV peak
Storage conditions: 23 ± 5°C, max. 60% rH
Final inspection: 100% (electrically tested), max. 3 consecutive voids, bad ones marked
Reel specifications
Reel core: inner diameter 76 mm
Reel diameter: outer diameter max. 210 mm
Reel winding: face out
Reel size 10,000
The same wet inlay with Impinj Monza R6 chip is also available. Please contact us for more information.
Data sheet
Operative frequency

Global (860 – 960 MHz)

TID (Tag Identifier)

96 bit

EPC (Electronic Product Code)

up to 128 bit

User memory

up to 64 bit

Remark

ISO 18000-6C / EPC Gen2 V2

Antenna size (mm)

10 x 22 mm

Operating Temperature

From -20°C to +70°C
10 other products in the same category: