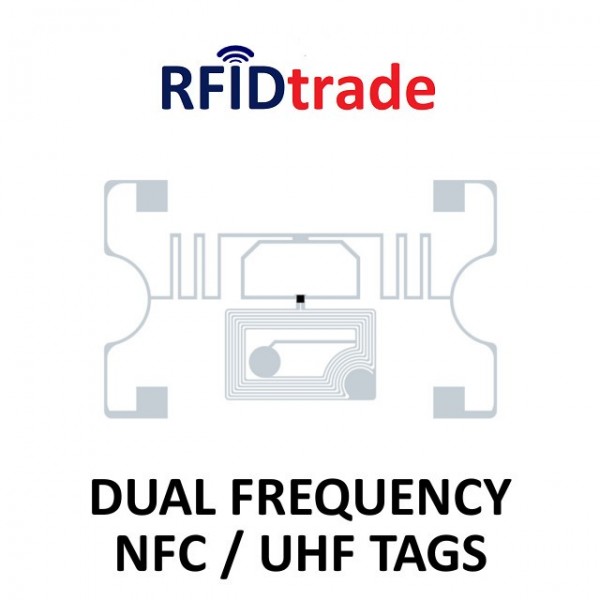 Dual Frequency NFC/UHF Wet Inlays 54x34mm
This RFID Tag works both with HF 13.56 MHz and UHF 860-960 MHz technology. It can be read by an NFC smartphone and by an UHF reader.



This RFID Tag is equipped with the EM4423 chip that combines two functionalities on one single die: the EPC technology used for long-range application purposes, and the NFC technology used to exchange data in close proximity. Both protocols may share a common, unique ID.
Technical Specifications:
IC: EM4423
Memory: 1920 bit (204 byte) - Memory can be accessed and written using both ISO 18000-63 / Gen 2 and ISO 14443A-3 protocols
Frequency: HF 13.56 MHz and UHF 860-960 MHz
Antenna Size: 50 x 30 mm / 2.0 x 1.2 in
Die-Cut Size: 54 x 34 mm / 2.1 x 1.3 in
Web Width: 60 mm / 2.4 in
Operating Temperature: -40 °C to +85 °C / -40 °F to +185 °F
Adhesive: Acrylic, water borne adhesive
Shelf Life: +20 °C, 50 % RH / 68 °F, 50 % RH - minimum 2 years from the date of manufacturing
Application Areas:
Retail
Loyalty programs
Media & Advertising
Product Authentication
Inventory Management
Supply Chain Management
Downloads:
Data sheet
Operative frequency

HF (13,56 MHz) / UHF (860-960 MHz)

TID (Tag Identifier)

96 bit

Remark

ISO/IEC 14443A, ISO/IEC 18000-63, EPC Gen2 V2

Antenna size (mm)

50 x 30 mm / 2.0 x 1.2 in

Chip-type

EM4423
10 other products in the same category: