A Free Tool for Impinj RFID Readers
Speedway Cloud is a middleware solution for Impinj RFID Readers using Speedway Connect software. It is a useful tool for testing both Readers and Tags, but it can also be used in production.
Speedway Cloud allows you to view all the RFID Tags read by an Impinj Reader, using any browser connected to the Internet. The RFID Tags are listed in a web control panel, through which it is possible to skim the data, sort them, filter them, or export them.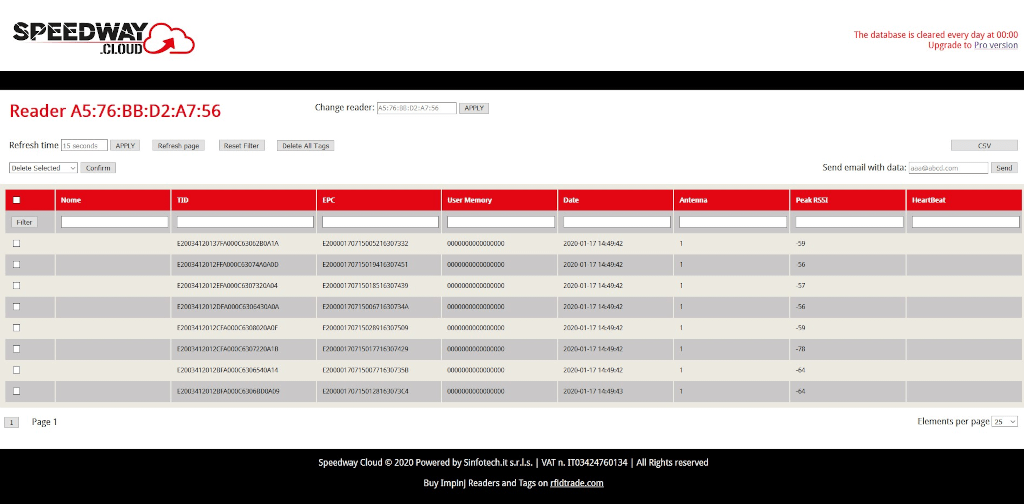 It is possible to set filters on practically any type of information that the Tag carries with it: EPC, TID, User memory, timestamp, antenna, RSSI and HeartBeat. Let's do a concrete example: you can set up a filter that shows all the Tags with a certain EPC that have been read by a specific antenna at a given time on a given day. After that, you can assign a name to the highlighted tags, in order to recognize them more easily.
The data is stored in the Cloud. Every day at midnight they are all cleared (at least in the free version), but it is possible to download or send it via email.
Compatibility
Speedway Cloud is compatible with all Impinj RFID Readers that support Speedway Connect, namely:
Speedway Connect
Impinj Speedway Connect is a software for Impinj RFID readers which allows their configuration through an easy-to-use graphic interface. It is free in demo mode, meaning up to a maximum of 500 readings; after that, you need to purchase a license or restart the player.
Speedway Cloud Pro Features
Support for multiple readers
Dedicated database and server
Direct connection to database
Scheduled reports via email
Database cleanup scheduling (no longer at midnight)
Password protection
Try Speedway Cloud now: https://speedway.cloud